June 12, 2011 - Eight parts for two kids!
Pentecost Sunday: the third and last week of Joseph and His Brothers, due to our shortened summer rotation schedule and the Vacation Bible school Kickoff, which will take place during Sunday School hour next week. When we took attendance at the the Gathering Place, I only had two first graders present—for a play with eight speaking parts! But the boy and girl who showed up both asked, "Can we do it anyway, Miss Laura?" Of course I couldn't disappoint them, so we did some creative double (and triple) casting, combined some dialogue, and had a great time.
Both kids were game for anything, as long as they got to wear costumes and play on the stage. Working with a tiny cast is a challenge, but gives you more time to talk one-on-one with each child, and multiplies what my friend Sue calls teachable moments: those times when a child will ask questions, listen and really remember your answers. Those moments are what every teacher and parent prays for, because that's you have a chance to do the job God has given you. Sitting around our shepherd's camp on the stage while we talked about God's love and forgiveness, I felt God had given me a string of these moments, a gift of time to bond with these two children in a special way. It was a happy ending to the first half of our lesson on Joseph.
Next week, I'll be helping in Vacation Bible school and getting ready for the second half of the story, Joseph In Egypt. That rotation will begin on June 26, and pick up the story of Joseph when he is in prison and his skill at interpreting dreams is about to propel him into the service of the Pharaoh. More about that next time!
June 5, 2011 - Joseph and His Brothers
We began our rotation on Joseph and His Brothers last week, but because of the holiday weekend several teachers and students were out of town and we decided to take everyone to the movie room to see an extra movie about this important Old Testament hero. This rotation is the first of two lessons about the life of Joseph, starting when he is the favorite son of his father Jacob, also named Israel.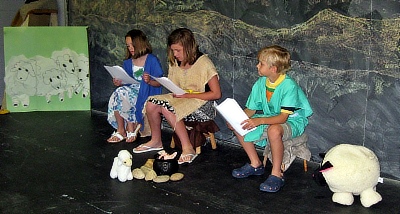 We explore the relationship Joseph has with his father, who gives him a beautiful but impractical coat, and his brothers, who are so jealous that they plot to take his life. Instead, a caravan of traders happens by, and they decide to sell him as a slave. Joseph is taken away to Egypt and the brothers explain his disappearance to their father by pretending to find Joseph's beautiful coat torn and bloodstained. The intensity of their father's grief and pain shocks them into realizing the horrible thing they have done, but it is too late to undo it. The play ends here, with Israel bowed down in despair, and the brothers facing the consequences of their betrayal.
This solemn lesson is always hard to teach, but the part about siblings driving each other crazy is easy for most children to relate to, so that's where I start. This week I was glad to have a mixed age group which included some actual siblings as well as a couple of youth helpers. Since the play is long, I cast the parts by director's choice and we got the show started.
The kids enjoyed acting the frustrated brothers plotting against the bratty Joseph, but they didn't miss the significance of the ending. Afterward, we discussed how easy it is to do something in anger without thinking about the consequences, which can be very painful to live with. This suffering can make us feel that God will never forgive us, but God's love for us is unconditional. No matter how hard we make things for ourselves, God is steadfast in his love, and stays by our side in our darkest trials. For our ending prayer, we asked for the patience and faith we need to get us through hard times and see that even suffering can prepare us to do our part in God's plan.
May 22, 2011 - 5th Grade Hits the Beach
Our final Sunday for Breakfast On the Beach arrived all too quickly and with it my small but superlative fifth grade class. After reading the Bible, they keyed right in on how ashamed Peter must have felt facing Jesus after denying him and had no trouble imagining the other disciples feeling awkward while trying to talk to the risen Lord. If there's one thing preteens can empathize with, it's feeling uncomfortable and shy.
The roles were cast and everyone went into performance mode with only a little horsing around. The only one to lose focus was me—I kept forgetting my cues for the sound effects, necessitating some ad lib lines from the cast to get me back on script. As usual, the discussion after the play was animated and insightful—they teach me more about abundant grace than I teach them. What a great crew to have breakfast with, on the beach or anywhere!
5th Grade
Next week begins our first summer rotation, Joseph and His Brothers, based on Genesis 37. Get geared up for conflict, drama, and some serious sibling rivalry as we begin this study of one of the heroes of the Old Testament.
May 8, 2011 - Mother's Day
On Mother's Day all the children's choirs were singing in both services and the drama room schedule was tight since most of my third and fourth graders sing in the Boy-Girl Choir. They are a large class and Breakfast On the Beach has only four speaking roles, so I declared it a director's choice casting day in order to get the show rolling and get finished in time to release the singers to the choir room. The children understood and cooperated well, getting their costumes on and handing out scripts as parts were assigned.
There were plenty of enthusiastic non-speaking disciples for the fishing trip and beach scene, and I had to shush them several times so the dialogue could be heard. My usual method is to tell them there will be a test afterward, so to be quiet and listen to what the characters are saying.
When we finished the play and gathered for our closing discussion and prayer, one of the boys said "What about the test?" so I asked if anyone could tell me how Peter changed during the play and why. One of the girls immediately raised her hand and explained, "At the beginning he felt really terrible about denying Jesus, but after Jesus gave him breakfast and talked to him, Peter knew Jesus forgave him and was still his friend so he could come back to God, because God's love never stops." How's that for a concise, to-the-point answer?
1st Grade
We had a lively discussion about the abundance of God's forgiveness and possibly I waxed a bit too eloquent: after my final statement, there was a half-second of silence, then one of the boys stood up solemnly and began to applaud. The other kids laughed and joined in, so I apologized for getting carried away, and began the prayer. As they were leaving, several told me they really were clapping because the play was fun and they liked it when I got excited. Maybe they were just being tactful, but it doesn't matter. If you don't risk your dignity and feel foolish every now and then, you aren't teaching with your whole heart. Learning about the abundance of God's love and forgiveness is exciting! One look at these great kids is all the proof you need.
May 1, 2011 - 1st Grade May Day
May Day brought our enthusiastic first graders to the drama room to perform Breakfast On the Beach. The stage set intrigued them immediately, with the indoor scene on one side and the net-draped boat on the other. "What's this play about?" asked one of the girls, so we started reading the Bible story in John and talking about the two central themes of the story: abundance and forgiveness.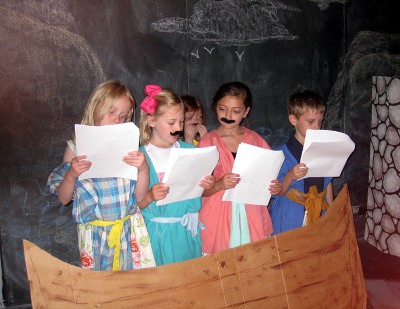 At this point in the year, the first grade reading skills are pretty close to the second grade level and I had plenty of volunteers to fill the speaking roles. The rest of the children dressed as extra disciples and helped with lights, sound effects, and changing scenes. The boat scene was a favorite as well as the picnic on the beach, even though it was a little rowdy. Boisterous but never boring is how I'd describe this happy bunch—and wouldn't have them any other way.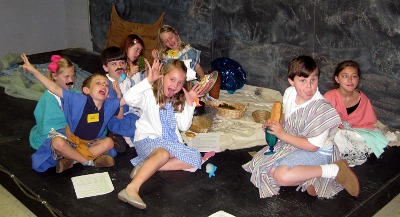 April 24, 2011 - Breakfast on the Beach for Easter
A beautiful Easter morning began the first week of our brand new rotation Breakfast on the Beach, based on John 21. This play begins just after the Resurrection with Peter and John. They have both seen the risen Christ and John is overwhelmed with the miracle, but something is bothering Peter. Every time a rooster crows, he remembers his denial of Jesus and feels terrible remorse. John attempts to comfort him, but Peter is too distressed and decides to go home to Galilee go fishing. John insists that he and the others must go along, and the next scene opens on the lake just before dawn. Peter grouses about the lack of fish and the others try to cheer him up but are unsuccessful till a stranger calls to them from the shore, instructing them to cast their net on the other side of the boat. When the net overflows with fish, John recognizes the stranger as the Lord. Peter jumps in the water in confusion and the others head to shore in the boat dragging the laden net.
The final scene opens with Jesus welcoming the disciples with breakfast on the beach. Everyone is awkward and conversation is difficult: what do you say to someone who died for you? Peter feels worse than ever and turns away from the meal, only to see Jesus walk away. He joins Jesus and one of the most beautiful moments in the gospel follows as Jesus, instead of berating or accusing, simply asks Peter three times if Peter loves him—once for each denial. After Peter's third reply, a rooster crows and he understands. He accepts his Lord's forgiveness and his commission to lead the others in spreading the gospel.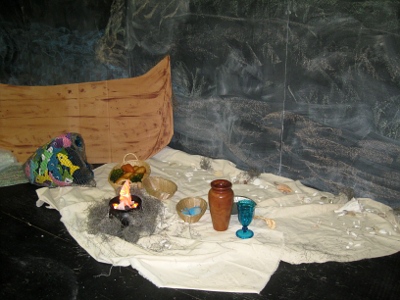 With the excitement of Easter Sunday all around them, the second graders had a hard time getting organized—casting took longer than normal as we had several latecomers and visitors. I try to make sure all visitors have a chance to understand what is going on and participate, since the drama room is usually a new experience for them. Fortunately, we have lots of disciple costumes and everyone was able to squeeze into the boat for the fishing scene. The beach scene was also a favorite; everyone always loves pretending to cook over the fire. I used a canvas drop cloth for the sand and scattered shells and dried moss over it. Because the actual shore of Galilee was covered with tiny shells when I visited it, I let each child take home a shell as a reminder of our lesson about the forgiveness and abundance that we have in Jesus.
April 17, 2011
We are already coming to the end of Lent; it's Palm Sunday and our last performance of He Is Risen: Joy in the Morning. My fifth graders showed up and took charge immediately. While I discussed the parts of Peter, John, and Jesus with the boys, the girls cast the parts of Grace, Faith, and Mary Magdalene without my help and began to hand out scripts. How easy was that? I've never had such an organized group of fifth graders. They are so competent and mature for their age that we get cast and costumed in a few minutes, but they are still kids, young enough to tune into the drama and emotion of the story.
This Sunday was no exception, and everyone turned in a stellar performance—and had plenty of insightful comments to make on the lesson along the way. Trust these smart fifth graders to zone in on the heart of the gospel story and run with it. The shepherd commented on the effort I put into the staging and teaching, then remarked, "I don't know how you do this every Sunday!" Honestly, this isn't work; it's the best fun I've ever had. One look at these fifth graders and anyone can see why.
5th Grade
Next week is Easter and we begin a new rotation on a story we've never studied before, found in John 21. We're calling it Breakfast on the Beach. This means I've written an entirely new play and will be busy making props and working on my stage this week, in addition to participating worship opportunities both new and traditional offered during Holy Week.
I am honored to be directing the cast of adults and youth in the Good Friday Tenebrae service, a dramatic reading based on the Crucifixion scriptures. This is new for our church and we hope it will be meaningful to everyone who attends. Send a prayer our way and have a glorious Easter!
April 10, 2011
I don't know whether it was the excitement of singing in the Boy/Girl Choir for early service or anticipation of Confirmation scheduled for the 11:00 o'clock service, but the third and fourth grade students were jazzed on arrival this Sunday. Getting them to settle down enough to match the somber mood in the beginning of He Is Risen: Joy in the Morning resembled cat herding, but with the able assistance of their shepherd they were cast and costumed nearly on time.
The music at the beginning of the sound track helped as well. I turned off the lights and we listened in the dark, and the room got quiet. As it ended and the scene began, I heard one of the boys murmur, "I love that song." Never underestimate the power of music! Taking the mood back up for the glory of the empty tomb was no problem at all-expressing surprise, wonder, and celebration is easy for this class full of natural performers.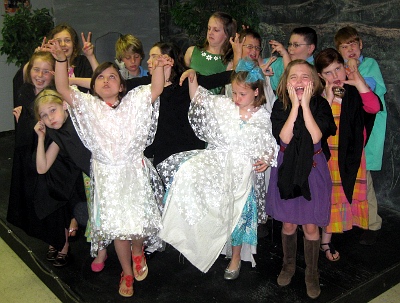 March 27, 2011
It's our second week of He Is Risen: Joy in the Morning and the first graders' turn in the drama room. The dark rainy weather seemed to help the boys and girls catch the solemn mood at the beginning of the play. The girl playing Mary Magdalene had the the perfect 'sad face.'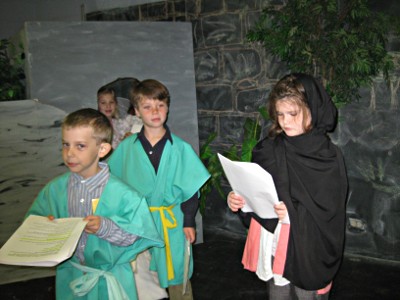 We had three boys, just enough for the parts of Peter, John, and Jesus. The boy playing Jesus was excited about his role, but a little worried: because of a learning disability, he has difficulty reading. I told him that Jesus doesn't say much in this play (though what he does say is very important) and I would whisper the line in his ear and let him repeat it.
The mood began to turn to excitement as the thunder boomed and the stone rolled away and in the final scene between Jesus and Mary, something special happened. When I read the line to the boy playing Jesus, he didn't just parrot it back to me. He looked at Mary and spoke to her, giving the words the right cadence and emphasis, just as he felt Jesus would have said them. It was humbling to see a child with his difficulties respond to the story with so much understanding. It wasn't just another illustration of what an important teaching tool drama can be. It was a moment of grace—joy in the morning, indeed.
March 20, 2011
Spring is coming, and we have started our Easter rotation, which focuses on the empty tomb. The play He Is Risen: Joy In the Morning is based on the gospel of John, Chapter 20. It begins with somber music as the angel Faith keeps vigil with the Mary Magdalene and the women mourning Jesus. It is almost the third day since Jesus died on the cross.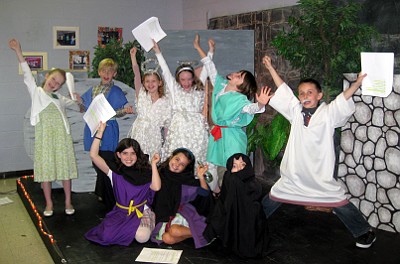 The angel Grace appears and Faith tells her that things are as bad as they can be, describing the grief and confusion of the disciples. Mary stirs, and says that the Sabbath is over and they must go to the grave to perform their last duties to their Lord. As the women file out, Grace assures Faith that even the darkest night cannot keep the sun from rising. The music begins again in the next scene, as the women appear at the tomb, which is glowing with light. Suddenly there is a crash of thunder and the stone rolls away. The women cower and run, except for Mary, who forces herself to look inside. The scene ends as the angels shout "He is risen!" and Mary flees. She fetches Peter and John, who enter the tomb and confirm that it is empty, but leave still confused. Mary, left alone, begins to cry. The angels speak to her first, then give way when Jesus appears. When Jesus calls her by name, Mary recognizes him and is overcome with joy. In the final moments of the play Jesus sends Mary to tell the others, and instructs Grace and Faith to stay with his friends while He returns to the Father, to keep them strong till He returns.
After they finished reading the chapter in the Bible, the second graders understood when I said we were going to start at the saddest part of story and go to the happiest ending ever. I had really good readers to choose from and the roles were cast in record time. The girls did some excellent weeping and moaning at the beginning, but as usual everyone's favorite scene was the second, when there is a clap of thunder and the stone seems to roll away from the empty tomb by itself. We do this by pulling on the fishing line attached to the stone, but it takes a steady hand and perfect timing to look right, so my special effects assistants take their job very seriously. Sometimes the kids even request that we do it twice "because it looks so cool!" Before our final prayer we talked about keeping our faith strong when things were very sad or hard by remembering that even the darkest night ends with the sun coming up, just like Easter morning.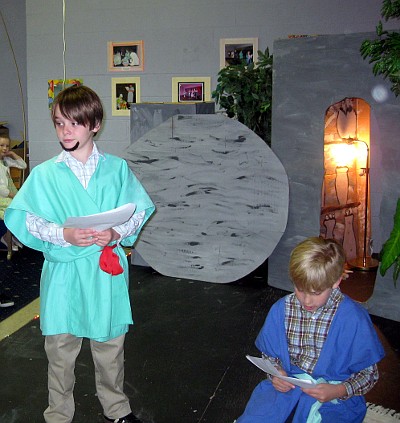 March 13, 2011 - Adult Participation
The first Sunday of Lent was our last week of Paul: Blinded by the Light. Because of spring break I had a small class of only three fifth graders, but with the help of our terrific shepherd we were able to fill all the parts. I handled sound effects and filled in as the leader of the mob at the end. The kids get a kick out of adult participation, especially when one of us has to be the villain of the piece.
We finished in plenty of time to discuss the story. One of the girls commented that this play was fun to do, that the story was exciting. This led us to talk about how Paul started and how he he changed and how amazing it must have been not just to him, but everyone who knew him. We also discussed the ways God might call us and how we can keep our ears (and hearts) open to listen for that call.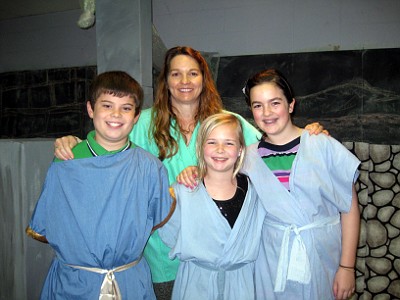 All the kids agreed there could be no feeling more wonderful than knowing you are exactly where God wants you to be, doing what God has chosen you to do. I know they're right about that, because I feel that way in the drama room every Sunday.
March 6, 2011 - Director's Choice
The first Sunday in March, Transformation Sunday, and the last Sunday before the season of Lent begins on Wednesday brought us crazy weather—snow, rain, and sun all mixed together. It also brought me my mixed class of third and fourth graders, ready to tackle Paul: Blinded By the Light.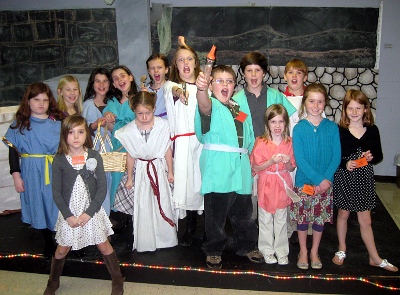 As usual for this group, everyone wanted a part and with so many kids and a longer play, I declared it Director's Choice day in order to get all the roles cast so we could get started. Whenever I have to do this, I make sure that the kids who did not get a speaking part get something extra from me, whether it's a special costume or accessory, a job assisting me with special effects, or just some extra attention to let them know I'm glad to have them in the drama room. Since this play requires sound effects, special lighting, scene changes, and an angry mob finding those extras was easier than usual!
The children threw themselves into high gear, working the lights, sound effects,and scene changes like pros. Then they helped hang up costumes and collect props after our final prayer-there's only one word for these kids: fabulous!
February 20, 2011 - Help from a stand-in shepherd

It's the second week of our rotation on Paul: Blinded by the Light. The first graders are reading very well at this point, but some of them are still shy when reading their lines onstage so it is important to be right there with them.

Though the regular class shepherd was absent, one of the first grade moms volunteered to help and she was wonderful. She jumped right in, helping the children with costumes and standing beside them to keep them on task during the play.

The action of the play moves through several scenes, starting in Jerusalem, moving to Damascus, then to the road for the dramatic conversion scene, then back to Damascus for Paul to be healed and begin his ministry as a follower of Jesus.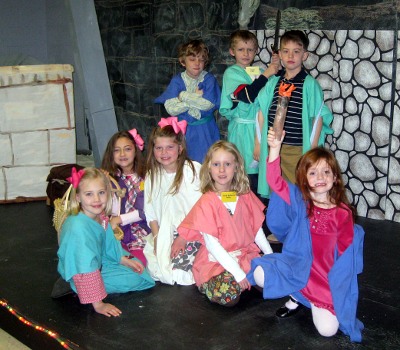 All these scenes and changes take a bit longer to perform with kids that are just getting confidence in their reading skills and learning to follow a script. My first graders love scene changes though and get excited about moving the set pieces to create a new place. Our volunteer shepherd really helped keep things flowing. After the final prayer, she commented on the amount of work, but I think she agreed that the kids were worth it. They certainly had a blast!
February 13, 2011 - Paul: Blinded by the Light

Our new rotation play is Paul: Blinded by the Light, the story of Paul's conversion on the road to Damascus. Based on Acts 9: 1-27, the play begins in Jerusalem, where Saul has secured letters from the High Priest giving him the authority to pursue and arrest followers of Jesus that have fled to Damascus. His friend and former teacher Gamaliel tells Saul that the New Way these people preach will fade away on its own if it is not from God, but Saul is determined to stamp them out. Meantime in Damascus, Barnabas and Ananias meet and exchange the bad news that Saul is on his way. They agree to pray for God's guidance in this scary situation.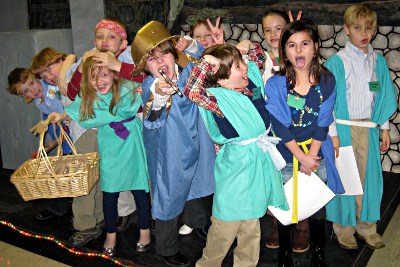 In the next scene, Saul is hurrying his traveling companion Judas along the road when suddenly he is struck blind by a light no one else can see, and Jesus calls him by name. He is led by hand into the city and stays with Judas, refusing food and praying. Ananias, also praying, is dumbfounded when Jesus tells him to go heal Saul of his blindness.

Questioning but obedient, Ananias goes to Judas' house and restores Saul's sight. Saul asks immediately to be baptized in the new faith. Filled with the Holy Spirit, Saul says he has become a new person and will take a new name. He is such a fierce defender of the gospel of Jesus that he angers its opponents in Damascus and they plan to kill him. In the final scene, Barnabas, Ananias, and Judas protect Saul and arrange his escape from the city by lowering him over the wall in a basket.
With such dramatic material, it was easy to get the second grade excited about acting out the story. The girls frowned about the lack of female parts, but I pointed out that in Shakespeare's time all parts—Juliet and Cleopatra included—were played by men, so it was time to even things out. They jumped right in and the roles of Gamaliel, Ananias, and Judas were better for it.

My second grade is full of natural actors and I always get a kick out of their hilarious interpretations of the characters. They are smart, too. Before our ending prayer, I asked if any of us could do something so awful that God couldn't change us into an instrument for His work. They answered in unison: Of Course Not!
February 6, 2011 - Tough Questions from the 5th Grade

On our last Sunday of Mary, Martha, and Lazarus, we had a small class, only five children for a play with several parts. However they were fifth graders, used to improvising and double-casting, so every role was covered. I even put on a costume to help the Mourners weep and wail. One of the boys re-named us the Moaners, so we must have been convincing.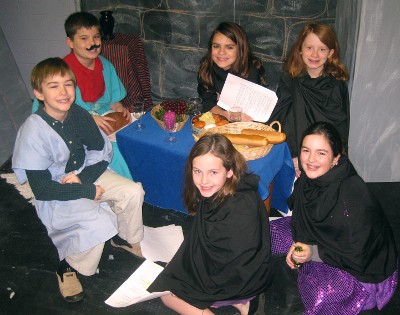 After the play, I can always count on fifth graders to ask some difficult questions and this week was no exception. We discussed how Mary and Martha felt at the beginning of the play and how hard it is to have faith when awful things happen and we feel like God has not answered our prayers. One of the girls pointed out that sometimes the answer is no, because God has a better plan. We talked about how hard it is not to know why, but everyone agreed God is in charge and we have to trust Him.

We prayed together that our faith would be courageous enough to trust in God's plan for us, and for His help in making choices in tough times. I added my own silent prayer, thanking God for the choice I made to teach Sunday School and be blessed by these children every week.
January 30, 2011 - 3rd & 4th Grade "Pick a Number"

Last Sunday was my week off during this rotation, so I visited the Confirmation class and enjoyed spending time with the students I am mentoring. This week Acts of the Apostles was back in action with a class full of third and fourth graders, ready to enact the story of Mary, Martha, and Lazarus.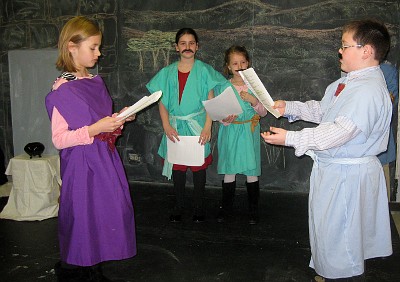 We have lots of good readers in this class who always volunteer to help me read the Bible story and this week was no exception. Everyone wanted a part, so we had to use the "pick a number" system for casting. All the children who want a particular role raise their hands and I choose a non-competing child and ask him or her to think of a number in a range, from 1 to 7 or up, depending on how many kids want the role. All the children competing then pick a number from the range and the one closest to the original number gets the part. This is reasonably fair, though it can take time when you have to do it for every part. However, I never complain about everyone wanting to participate!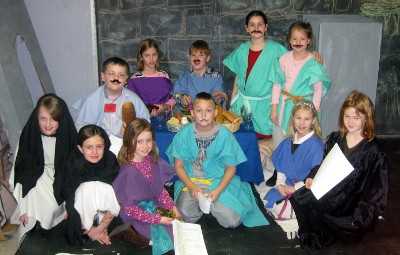 All the actors did a great job and really seemed to get into the skin of the characters. It's a great moment when I see the light come on in a child's eyes as she speaks a line of dialogue, and I know her understanding of the situation has changed. That's when I know I'm doing the work God wants me to do—how could anyone feel more blessed?
January 16, 2011 - First Grade and a call from Jerusalem

The second week of our rotation on Mary, Martha and Lazarus opened with a special treat in the Gathering Place: Mrs. Sue called us from Jerusalem, where she and her husband are leading a group of Church Streeters on a pilgrimage to the Holy Land. The children were thrilled to hear her say she would be making a special prayer for all of us at the Wailing Wall tomorrow. After saying a prayer for the safe return of our traveling friends, the first graders came upstairs with me to begin our lesson.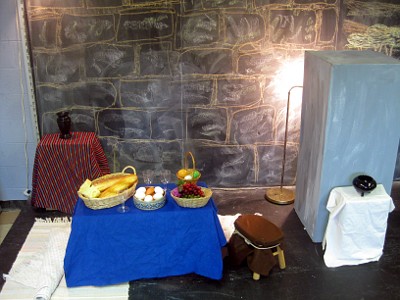 In contrast to last week, I had a very small group of kids, but they were happy to double up on the smaller parts. I also donned a costume, since I usually need to stay on stage to help the youngest performers find their place in the script and read their lines. This also helps give shy children more confidence—getting to laugh at Miss Laura in a funny costume is always a morale boost. As the youngest group of children in our rotation program, the first graders are a source of wonder and grace to me. They are always willing to help with changing scenery and straightening up afterward.

Their responses during our post-performance discussions are pretty impressive, too. Jesus said we must enter the kingdom of heaven like a little child and every year my first graders help me understand why.
January 9, 2011 - A Huge 2nd Grade Class

Epiphany Sunday already? Ready or not, we kicked off our next rotation play on Mary, Martha, and Lazarus.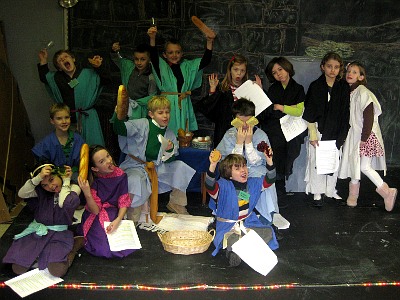 Based on John 11, the play begins in Bethany, just after the death of Lazarus, as Martha and Mary grieve for their brother and try to understand why their close friend Jesus did not come in time to save him. A group of Mourners wails behind them, weeping and echoing the words of the sisters. Before they have sorted out their feelings, a message comes, saying Jesus has been seen on the road approaching the town. Martha hurries out to meet Jesus, but Mary is too upset. Martha confronts Jesus on the road with her sorrow, telling him Lazarus would not have died if Jesus had been there. This dramatic scene ends with Martha's strong declaration of faith that Jesus is the Christ, the one God has sent to save His people.

Martha returns home to tell Mary that Jesus is asking for her, and the two of them leave hurriedly for the tomb, followed by the mourners. At the tomb, Jesus weeps with the sisters before asking his disciples to roll away the stone. He prays to his Father, then calls Lazarus out of the grave. The scene ends as Mary and Martha rush to their brother's side. In the final scene, everyone has returned to the house in Bethany and a celebration dinner is in progress. To the shock of all the disciples, Mary pours an expensive bottle of perfume over Jesus' feet. Jesus defends Mary and Lazarus breaks the tension by raising his glass to salute his friend. The play ends with Martha and Mary discussing their new understanding of Jesus and their faith in his love.

In spite of a bitterly cold morning, a huge group of second gradersarrived, fired up and ready to go. Everyone wanted a part, so we had extra mourners and almost a full complement of disciples. I had set up the house in Bethany on one side of the stage and did an outdoor back drop on the other half for the scenes on the road and at the tomb. When it was time to go to the tomb, we removed the furniture on the house side and set up the tomb on that side. After Lazarus had risen, the tomb came down again and the furniture was rearranged for the celebration dinner.Fortunately I had plenty of help with the scene changes from the kids and their shepherd so transitions were quick.

Having a large class does require extra help from the shepherd as crowd control, but it's wonderful to have the stage full of costumed characters, excited about sharing the story. That's what it all about.